The Iowa Holocaust Memorial at the Iowa State Capitol in Des Moines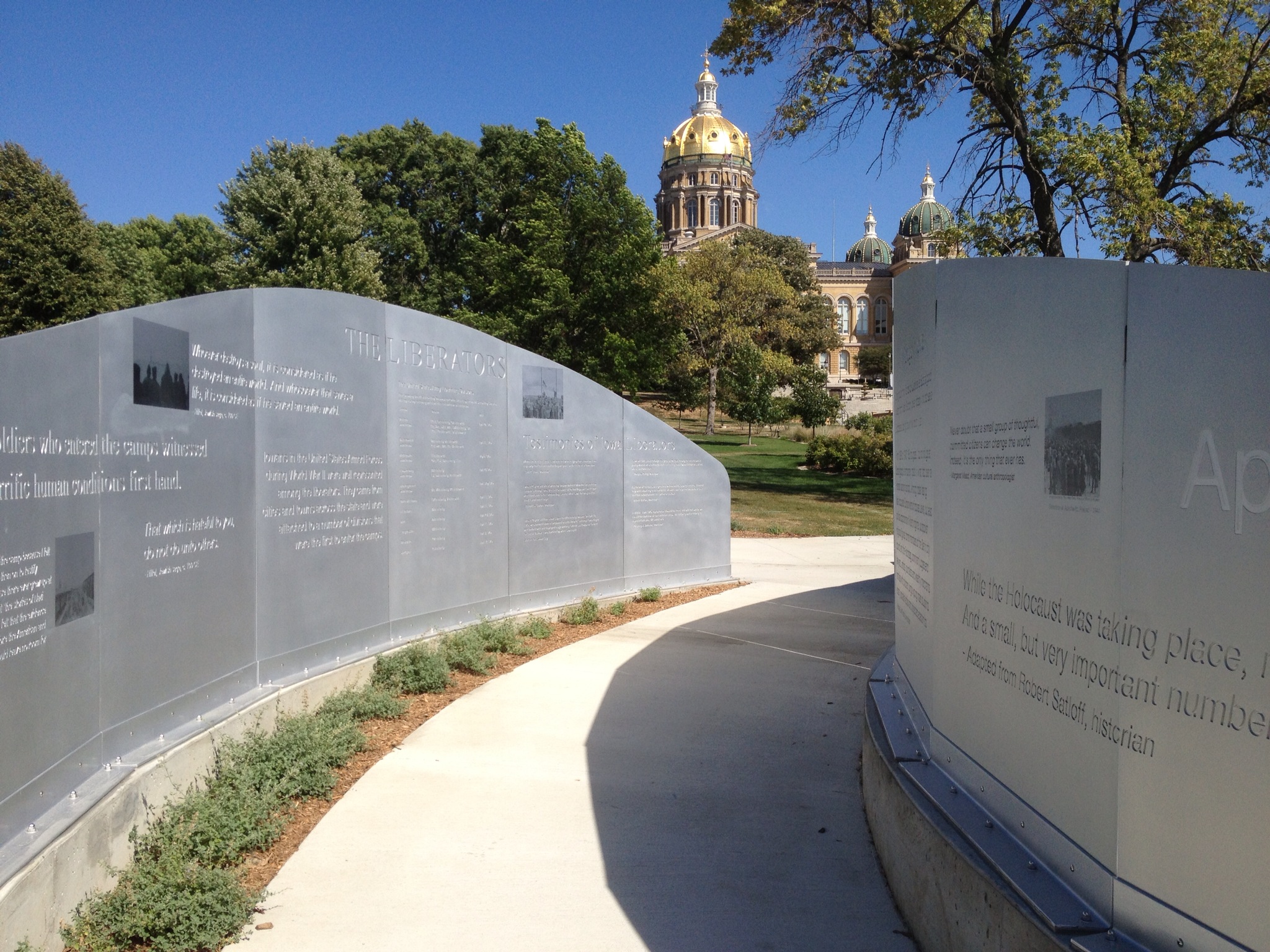 Documents
NEW! 1.  Text displayed on the Memorial : http://bit.ly/1dt66n1
         2.   Photos displayed on the Memorial [As identified on the Text file]:  http://bit.ly/1efaVB6
The Four Walls
Wall A (Front) http://bit.ly/1NuCrpM     Wall A (Back) http://bit.ly/1RN40Mh
Wall B (Front)    http://bit.ly/1KpJhz3    Wall B (Back) http://bit.ly/1efdWkI
Wall C (Front)   http://bit.ly/1NqEVGt    Wall C (Back) http://bit.ly/1HqY3TT
Wall D (Front)   http://bit.ly/1NuCwtK    Wall D (Back) http://bit.ly/1FLm4zr
 * A Visitor's Introduction to the Iowa Holocaust Memorial ( August 2014) with brief essays by members of the Iowa Council for Holocaust Education is online at http://www.docstoc.com/docs/171986867/memorial%20reflections.pdf
                                                                -----------------------------
 Constructed during the summer of 2013, the Iowa Holocaust Memorial is situated outdoors on the grounds of the West Terrace at the State Capitol, near the corner of East Grand Avenue and East 7th Street in Des Moines.
With four walls of aluminum engraved with inscriptions and photographs, and arrayed in an artistic design, the memorial was established to commemorate the millions, including six million Jews, murdered by the Nazis and their collaborators during World War II in Europe; to express gratitude to the Iowans who, as members of the U.S. armed forces, participated in the liberation of the concentration camps in 1945; and in honor of the survivors who came to Iowa.
The memorial enshrines the lessons of the Holocaust: to protect democracy, to take action in the presence of evil, and to teach one's children by example to respect people different from oneself.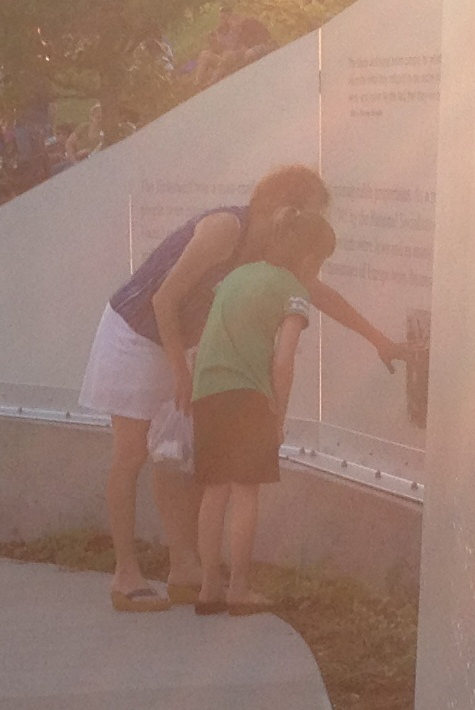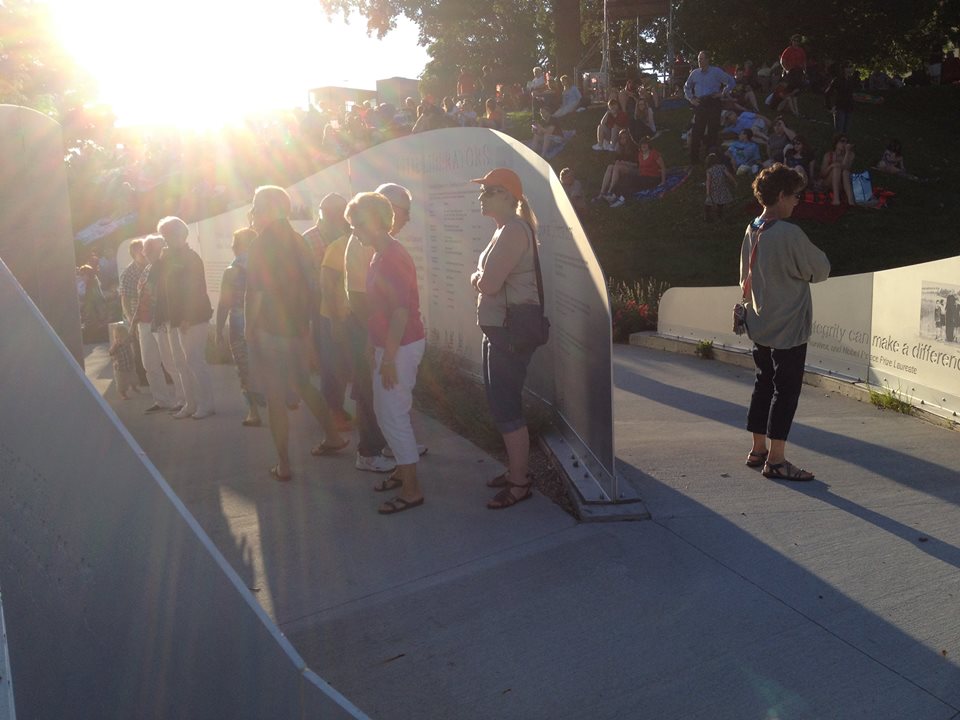 Twelve iconic pictures on the walls of the memorial are displayed courtesy of the United States Holocaust Memorial Museum's Photographic Archives in Washington D.C. A thirteenth photograph is reproduced courtesy of the Iowa Jewish Historical Society, located at the Caspe Terrace of the Jewish Federation of Greater Des Moines in Waukee, Iowa, at which information about the project is archived.
The memorial is a gift to the people of Iowa from the Jacqueline and Myron Blank Fund. The final design and construction of the memorial was overseen by the Confluence landscape architectural firm of Des Moines. Educational initiatives relating to the topic are planned by the Iowa Council for Holocaust Education, established in conjunction with the University of Northern Iowa's Center for Holocaust and Genocide Education.
On Facebook.  In addition to this website, material about the Iowa Historical Memorial and related topics is being added to http://facebook.com/IowaHistoricalMemorial.
To contact the University of Northern Iowa's Center for Holocaust and Genocide Education, email
This email address is being protected from spambots. You need JavaScript enabled to view it.

.

 
Thank you for your interest.
For additional information, contact This email address is being protected from spambots. You need JavaScript enabled to view it. or to This email address is being protected from spambots. You need JavaScript enabled to view it.